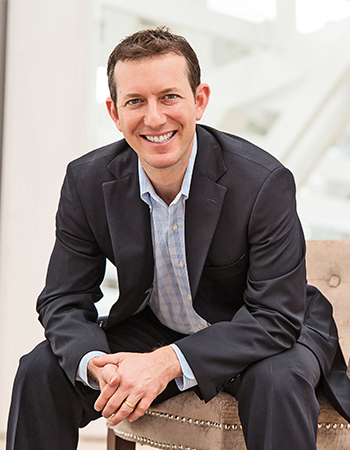 Evan is a real estate professional with almost 17 years of experience in the South Florida luxury real estate market.
He is one-half of Goldman Residential Group, the number 2 RE/MAX small team in Florida, one of the top 5 RE/MAX small teams in the US, and the number 17 RE/MAX small team worldwide with $1.8 billion in sales to date.
Evan is a master of effective communication and hones in on clients' exact needs.
He takes the time to educate buyers and sellers on all aspects of the market and the buying/selling process.
Sellers can expect guidance from Evan through the entire home sale experience and benefit from his financial know-how. He makes the home sale process simple and easy to understand.
Buyers benefit from Evan's extensive and detailed knowledge of the various South Florida neighborhoods, schools, and commute times when looking for a new home.
He specializes in Pinecrest, Palmetto Bay, South Miami, Coral Gables, and Coconut Grove.
Evan consistently delivers superior service with insight, innovation, and integrity. He has earned a loyal client following, resulting in a stream of referrals and repeat customers.
As a Spanish major who studied and lived in both Ecuador and Spain, Evan is fully bilingual with experiential knowledge of Japanese.
Evan currently lives in Pinecrest with his wife, two sons, and twin girls.

Evan far exceeded my expectations in terms of service and knowledge of the local market in Pinecrest in representing me as a buyer of a new home this month. He made himself available to us 24 hours a day, 7 days a week to answer any questions with respect to the neighborhoods, specific homes, and local schools. We dealt with a difficult seller in foreclosure and Evan fought for us to get the home we wanted and also negotiated with the listing broker and bank on a price reduction. He spent countless hours working on the sale for us, staying on top of the seller and listing broker and provided best-in-class service throughout the process. He had excellent resources to assist us with insurance and legal work, and two other gentlemen I highly recommend. Evan even came to the closing and sat with us throughout the morning to ensure the process ran smoothly and we were 100% satisfied with everything. We now consider Evan a good friend and a great resource in our new community, someone who will go the extra mile for his clients and provide the highest quality service.

Buyer in Pinecrest, FL
"Evan spent over eighteen months with me, working through the incredibly complicated home market in Miami. We placed numerous offers, saw dozens (if not hundreds) of houses, and went under contract on two different homes. Throughout the impossibly exhausting and insanely aggravating process, Evan was even-keeled, confident, calm, collected, and encouraging. He always respected my requests and anticipated my desires. His recommendations were always useful and his guidance was always spot-on. For a first-time home purchaser, Evan was precisely the sort of agent I needed; someone to hold my hand and walk me through each and every step of the way. Ultimately, when it seemed that we'd seen every home in the county without any success, we found the perfect spot - and Evan helped get me to closing. I recommend Evan without reservation or hesitation; he was fantastic.

-Buyer | Coral Gables, FL
Evan is an amazing agent and a wonderful person to work with. He ultimately helped us buy our perfect apartment in the downtown Miami area. We were difficult customers because we knew what we wanted and were willing to wait for it to come on the market at the right price. Through it all, Evan was extremely patient with us and was a great resource during the entire process. He displayed excellent knowledge of the Brickell and Downtown markets, consistently provided us with an honest and accurate assessment of where our offer put us with the seller and proved to be an excellent negotiator. Evan was most impressive once we were under contract. He was on top of every deadline and helped us smooth over issues and delays caused by our lender. A true professional. We would work with Evan again in a heartbeat.

Moish P.
I think whether you are a first-time home buyer or an experienced buyer, Evan is the best possible agent you could have. For us, as first-time home buyers, Evan walked us meticulously through every step of the process. He was also great at broadening our horizons in terms of what we "thought we wanted." We originally had wanted to look in the Gables and Grove. After describing what we wanted, he showed us a home in Pinecrest and that is where we ended up buying. He negotiated very well on our behalf. Helped find us contractors to do some of the little work that needed to be done. Just a true professional in every aspect of the job. Can't say enough!

Buyer | Pinecrest, FL
Evan worked tirelessly to help my wife and me find the perfect first house. He patiently took us to countless houses, each time offering his expert analysis of the strengths and weaknesses and pointing out things that we never would have thought of without him. Eventually, with his help, we found the ideal home -- one we never would have known about without him. Evan carefully guided us through the purchase and inspection process and made a challenging time easy and enjoyable. He combines expertise and experience with unlimited energy and a true understanding of the needs, concerns, and interests of young home buyers.

Buyer | Palmetto Bay, FL
Evan did an unbelievable job helping my wife and I buy our first house in Coral Gables. He provided us with excellent listings to visit and was very patient with our search for the perfect home. After we found our house, Evan was instrumental in helping us win a bidding war with two other potential bidders and navigating a difficult closing. I highly recommend Evan.

Buyer | Coral Gables, FL
Working with Evan has been a great experience and a smooth process up through and including our closing. Throughout our 2 1/2 year search we felt he always had our best interest in mind and he was committed to finding us the right house. He took the time to understand what we were looking for and was patient to help us find it. He is extremely knowledgeable, always having the answer to our questions. We couldn't be happier. Evan is the consummate professional and I would certainly recommend him to anyone I know.

Joshua A.
We were fortunate to be referred to Evan even before moving to South Florida. Evan seemed to understand what we were looking for immediately. He showed us homes that were perfect for our growing family and he helped to make the process of finding and purchasing our first home a smooth one. We couldn't be happier with our home-buying experience!

Buyer | Pinecrest, FL
Evan has been incredible! From start to finish Evan has been a professional yet showed care, patience, and personal attention. Buying a home is a stressful situation and Evan was patient in answering all of our questions, was quick to respond, and got us up-to-date and accurate information. His knowledge of Pinecrest and the market was excellent. It has been a pleasure and relief to work with a true professional.

Buyer | Pinecrest, FL
Evan walked us through every step of the process of looking for a new home. He was extremely accessible and very honest about the pros and cons of each house we looked at. He was calm and supportive throughout - and he made sure we found the perfect home for us. I HIGHLY recommend Evan to anyone looking for a house in Miami.

Renter | Palmetto Bay, FL