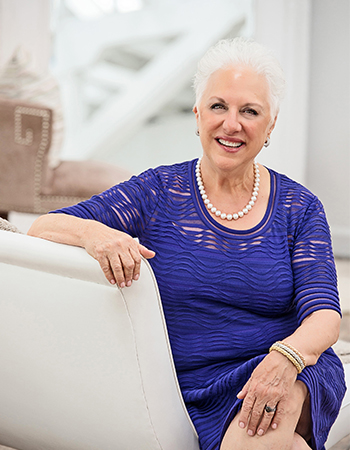 Hazel Goldman is a real estate professional with over 40 years of experience in the South Florida luxury real estate market.
She is one-half of Goldman Residential Group, the number 2 RE/MAX small team in Florida, one of the top 5 RE/MAX small teams in the US, and the number 17 RE/MAX small team worldwide with $1.8 billion in sales to date
Since founding her business in the 1970s, she has prided herself on operating with integrity and ethics, always looking out for her clients' best interests. Hazel's enthusiastic energy and love for South Florida also make her an invaluable partner to clients.
Her professionalism, highlighted by over $1 billion in sales, along with a master's degree in guidance and counseling and a Bachelor of Arts in Mathematics from the University of Virginia, allows her to understand, appreciate and relate to her clients' needs.
She can guide clients through every step of the home buying or selling process with straightforward market knowledge and experience.
Hazel specializes in the Village of Pinecrest, a well-known, family-friendly suburban village in Miami. She not only raised her family and currently resides in Pinecrest, but she has sold more homes here than any other realtor.
She also specializes in Palmetto Bay, South Miami, Coral Gables, and Coconut Grove.
She has guest-written for The Miami Herald.


After 9 years of living in the same house, my husband and I decided that we were finally ready to make the move to the house of our dreams. It was a scary process for us: uprooting our three girls and beginning the long process of selling and finding a new house in a nearby neighborhood. Mother and son team, Hazel and Evan Goldman, held our hands throughout the process. They took us out for an "educational" tour of houses on our first day so that we could get an idea of what was on the market. When we decided to list our house, they sold it within 24 hours. They tirelessly looked for a new home for us until we found exactly what we were looking for. I can truly say that we were in awe of Hazel's knowledge of Miami and the real estate market and were appreciative of Evan's tenacity. The negotiations with our new home were not easy. However, Evan stuck with it and got us the credits we asked for. You can't go wrong with this amazing team of realtors!"

Elizabeth V.
Hazel is far and away the most experienced and knowledgeable realtor in the Pinecrest, Palmetto Bay, South Miami, and Coral Gables area. When we were looking to purchase a house, we went to Hazel and Evan Goldman immediately because we knew that their expertise, tenacity, and candor were exactly what we needed. They exceeded our expectations. Hazel truly knows everything about the market and has a unique ability to size up her clients, their needs, and potential homes quickly and effectively. She is not afraid to tell clients the truth, which is an extremely valuable trait in a realtor. She is also a fierce negotiator who puts her clients' interests above all else. Hazel and Evan Goldman deserve their reputation as the top realtor team in the area.

Buyer | Palmetto Bay, FL